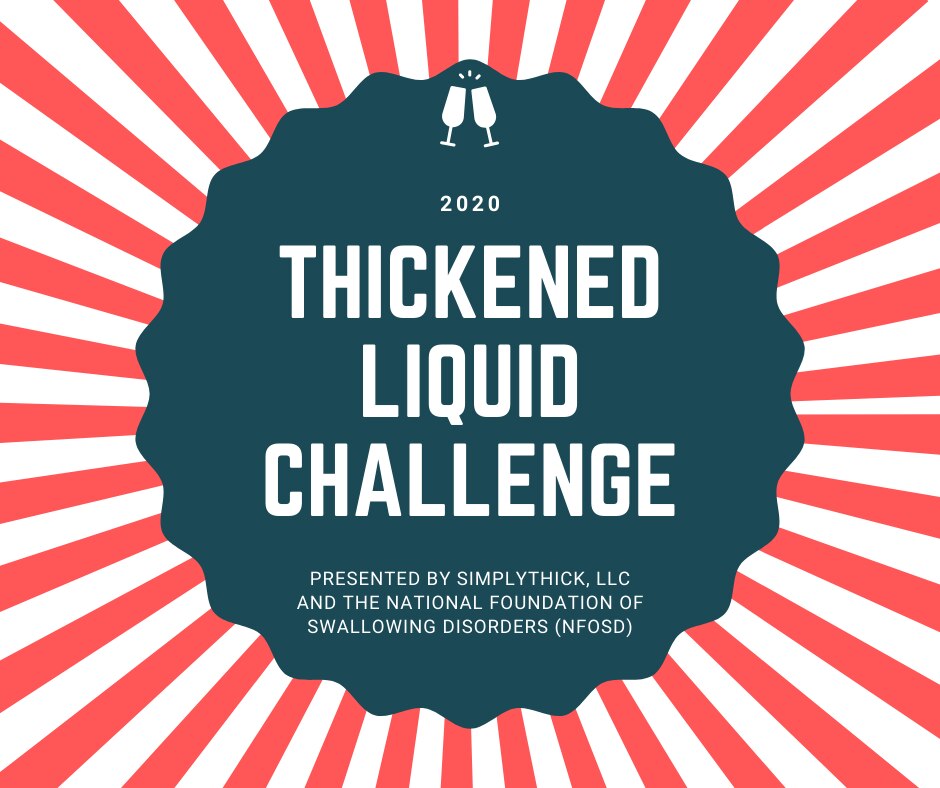 SimplyThick, LLC and The National Foundation of Swallowing Disorders have teamed up during National Dysphagia Awareness Month to have some fun! You are invited to participate in the 2020 Thickened Liquid Challenge designed to showcase enjoyable and creative dysphagia beverages. Let's collaborate and inspire caregivers, dietitians, therapists, and those with dysphagia to develop unique creations in their kitchen. We even have some awesome prizes for your efforts!
---
Rules and Regulations
Entries can be submitted by anyone: an individual, a corporation, a restaurant, a group of friends, a healthcare organization, a family!
Multiple entries are allowed.
Do not submit pictures or videos that you did not create or help produce.
In order for SimplyThick and the NFOSD to view entries, you must assure your privacy settings for the post are set to "Public."
In order for SimplyThick and the NFOSD to view entries, you must tag @SimplyThick and @NFOSD.
Entries must be submitted by June 30th, at midnight GMT.
By submitting a photo or video, you are confirming that anyone pictured has provided their consent for this to be shared publicly.
By submitting a photo or video, you allow SimplyThick and the NFOSD to share and reuse this on their websites, social media platforms, and with their mailing lists.
We will ask any inappropriate photos to be removed and reserve the right to not share these with our community.
Any disrespectful or inappropriate comments on photos submitted will be deleted.
Winners wiII be announced on the SimplyThick and NFOSD social media platforms.
Dates:
June 1 - June 30, 2020: Submit your video OR photo with recipe on Facebook.
July 2, 2020: 3 Winners Announced.
Prizes:
1 Free SimplyThick Large Bottle and Pump
1 Year Free Membership to NFOSD + Membership Kit
1 NFOSD 2020 Dysphagia Awareness Month T-shirt
To Participate on Facebook:
Record a video making a creative dysphagia friendly beverage OR submit a photo with recipe details in your post.
Make sure your post is set to public.
Tag

@SimplyThick

and

@NFOSD

.
Encourage others to like and share your video or photo.